5 Golden Rules for your Wedding Decoration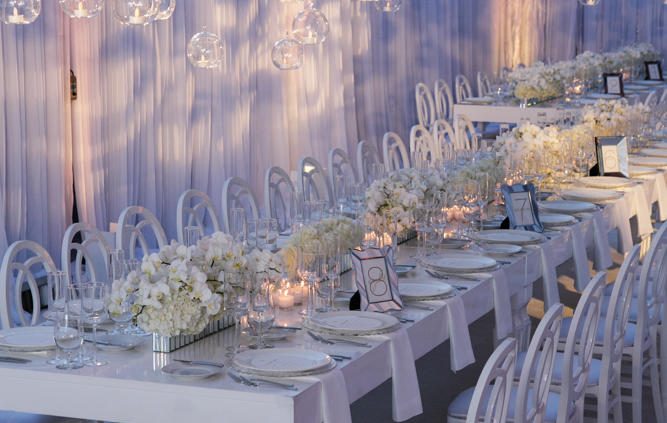 The decoration often becomes one of the biggest preoccupations of the bride and groom. It must set the tone for the wedding and also be personalized. Today, we offer you our advice to succeed D-Day as it is in your imagination.
1/ Define a Common Thread
To avoid getting lost, start by choosing a theme (countryside, urban, vintage, oriental, bohemian chic, …) or simply a palette of colors. This is the condition for guaranteeing the unity and harmony of the result. Once this choice has been made, all you have to do is concentrate on decorating all the elements of your decoration: Save The Date, announcement, menu, escort card, flowers, wedding favours …
2/ Work with the lighting
Too often set aside, lighting is nevertheless an essential component of your decoration. A studied light allows to highlight the beauty of the places and to emphasize the decorative elements but also to obtain magnificent photos and to sublimate your memories. Take advantage of a multitude of sources: floor lanterns, light garlands, candle lights, paper lanterns, led lighting, fluorescent lighting, etc.
3/ Think Big
Do not decorate your reception area as you would for your living room. Do not hesitate to bet on the accumulation to create a grand visual effect. You may want to opt for a dozen inexpensive candles rather than three expensive candlesticks. Similarly, 5 paper lanterns suspended from the ceiling is very sad, prefer a hundred, the effect will be multiplied!
4/ Optimizing space

Don't forget to consider the size of your reception room. If it is too big, use furniture to delimit the spaces: small cozy lounge, photobooth, table dedicated to your guestbook, dance floor, … prefer round tables that take up more space and if instead it is a little space, play on the symmetry with rectangular tables to give an impression of depth and avoid overloading the decoration.
5/ Anticipating and Knowing

Garlands to hang in the trees? Provide a sufficiently high ladder! Panels to be planted in the ground? Do not forget the hammer…
On the day of installation, there is virtually no room for maneuver to overcome technical problems. Better to be equipped and have a list carefully prepared tools so as not to end up in a huge stress. Plan a plan B that you will use in case the weather is capricious on the day of your wedding. Indeed, what a disappointment, if you find yourself in a dark and sad room, while garlands and lanterns take water out.
On D-Day, installing the decoration you've imagined for months takes a lot of time and energy. In order not to bottle this primordial moment, think to delegate. Ask your family or friends to not manage everything alone or better yet choose to use a Wedding Planner who will create and install your entire decoration so that you can enjoy every moment of your event without stress or hassle!
https://www.weddingplanner-larochelle.com/wp-content/uploads/2017/07/IMG_1809.jpg
1000
667
label-emotion
https://www.weddingplanner-larochelle.com/wp-content/uploads/2020/03/Logo_EV_weddings_or.png
label-emotion
2017-10-30 11:57:16
2020-01-14 10:27:46
5 Golden Rules for your Wedding Decoration